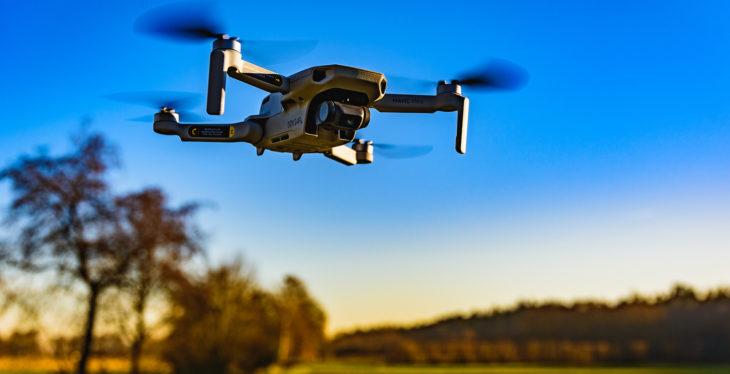 Drones – Flying Over People, Traffic, and at Night
January 25, 2021 • Aviation • Antitrust, Personal Injury • 0 comments
Several years ago, the FAA published rules that prohibited flying unmanned aircraft systems, or drones, over people or at night without a waiver. However, the FAA recognized the growing interest and number of people wanting to operate drones. So, in December, 2020, the FAA updated these rules to allow routine operations of drones over people, traffic, and at night – subject to certain requirements.
While the new rules set out a complex set of conditions with multiple criteria creating four different categories of drones and drone operation, only the first one (Category 1) is discussed in detail here. The other three (Categories 2-4) require a means of compliance document, a declaration of compliance, an airworthiness certificate or other documents for the FAA. Most drone operators, however, can satisfactorily operate drones over people, traffic and at night within the conditions of the first category.
Drone Equipment Requirements
The drone must weigh less than 0.55 pounds, and that includes everything attached to it. Additionally, the unmanned aircraft system must contain no exposed rotating equipment that could lacerate a person's skin. However, manufacturers are allowed to design and market kits that allow the retrofitting of guards. These can be installed on those existing drones with exposed propellers to make them compliant.
Conditions and Limitations
There are several requirements that must be met when flying a drone over people, at night, or over traffic.
Operations Over People
Sustained operation over open-air assemblies is not allowed.
Operations at Night
Additional online training is required. Also, the drone must have functioning anti-collision lighting that is visible for 3 statute miles with a flash rate frequent enough to avoid collision.
Operations Over Traffic or Other Moving Vehicles
Generally, the drone may only move across traffic in a transitory nature. It may not be operated over traffic in a sustained manner. There is an exception to this rule. If the drone remains within a restricted-access area, and all people in vehicles in the restricted-access area are aware of the drone, it may fly over them in a sustained manner.
Demonstration of Compliance
A person flying their drone over people, traffic, or at night must be prepared to do the following at any time:
Have in possession their remote pilot certificate, and be operating the drone in compliance with the requirements of the certificate.
Present upon request the certificate to any FAA, NTSB, TSB or law enforcement officer.
Be prepared to present, within a reasonable time, any documentation required to be kept under FAA regulations.
Upon request, allow the FAA to inspect or test the drone and the drone operator. If applicable, any associated visual observer may be inspected as well.
We're Here to Help
The FAA had intended to simplify the requirements for operating drones over people, traffic, and at night. However, they actually can seem more complicated than previous requirements.
If you have any questions about these new rules, or are interested in the more complex conditions governing Categories 2-4, please contact our aviation law attorneys today.