NTSB Accident Reporting Requirements Explained by Yulia Vangorodska
Any accident that occurs while you are operating an aircraft has the power to put the fear of death into you. Not only is it terrifying to know that you may put your passengers in danger, but it's also an unavoidable part of being a pilot and you have to be able to think calmly about the situation to get through it. Avoiding panic is the first step.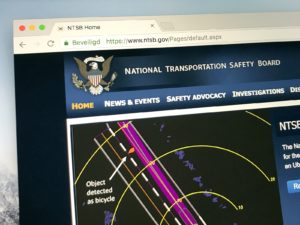 Once you and your aircraft are safe, it will probably be time to report the accident to NTSB, the National Transportation Safety Board.
Any time there is "substantial damage" to the aircraft or the ground, it's important to report the accident. Some reasons that you must file a report with the NTSB can include:
Malfunction or failure of the flight control system
A crewmember succumbing to illness that makes them unable to perform their duties
Any failure of the engines or turbines
Fires
Colliding with another aircraft while in flight
Any type of property damage
A propeller being released/falling off
Any damage to helicopter blades or rotors
Landing on the incorrect runway
The important thing here to remember is that you only need to report that accident after you are safe. While it can be a career-ending prospect to incriminate yourself in an accident, your own testimony can also serve to prove that this was truly an unavoidable and tragic accident and not a neglectful or irresponsible move on your part.
It's important to consult with a lawyer with piloting experience before filing an accident report to ensure that you do not accidentally reveal information that is incorrect or may be damaging to your certification.
Legal Help Available
Aviation should be fun--not a stressor added into your life. When it becomes a chore or something you dread, call Vangorodska to schedule your appointment. There's no time to delay when it comes to your freedom of flight - so so do not wait until it is too late to save your career and certifications.
If you are involved in a serious accident while piloting an aircraft, you may temporarily lose your certification while an investigation of the incident occurs. Fear not, however, because the NTSB board will also hear your appeal testimony, which will give you a chance to answer the charges that have been leveled against you.
Should the appeals board reject your claim, you will also have the chance to reach out to the United States board of appeals with your case. There are many opportunities to regain your licensure and your certifications even if you must lose it temporarily while the investigation is active.
While this is happening, you need to get in touch with an aviation lawyer as soon as you are humanly able. There is really no time to waste when it comes to getting your career and income back on track, and losing that for even a small amount of time can have disastrous consequences for your finances, especially if you are in debt.
Thankfully, Yulia Vangorodska, Esq. is an aviation lawyer with flexible pricing and who lives by the creed of "quality over quantity" when it comes to the cases he takes on. Contact him today to talk about your NTSB accident report and ensure that your livelihood is protected in the event of an emergency order of suspension hitting your certification.