What Are the Civil Penalties Enforced by FAA & TSA?
Knowing you are under investigation by either the Federal Aviation Administration or the TSA is not an easy concept to deal with, but facing civil penalties from either of these security administrations is perhaps the worst outcome of a long and onerous investigation. Not only can you lose your certification, whether medical or operating, by violating statutes put forth by either one of these departments, you also may be subject to an unheard-of amount in civil penalties.
For instance, the TSA lists in their "Enforcement Sanction Guide" that those pilots and airmen who violate TSA statutes can face up to $34,000 in civil penalties per violation. That means that if more than one violation has been uncovered, your whole financial life may be in jeopardy.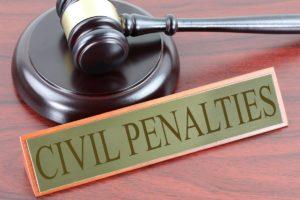 Of course, there are always factors that will influence how far the punishment and penalties for these violations will go. Depending upon some of the following things, you may be facing larger fines and penalties than you'd expected:
Degree of security risk created by the violation
How severe the violation is
Past history of violations
Level of professional/pilot experience
Unhelpful attitude from the violator
Concealment of past mistakes
While the initial investigation may feel like a death sentence, any of the above can cause the severity of these civil penalties to increase, possibly taking away your right to fly ever again.
Contacting a lawyer as soon as you receive a Letter of Investigation or suspect that you are under investigation is the wisest move, as you can protect yourself far better when you have the legal knowledge of an aviation lawyer to back you up.
Legal Help Available
Aviation should be fun--not a stressor added into your life. When it becomes a chore or something you dread, call Vangorodska to schedule your appointment. There's no time to delay when it comes to your freedom of flight - so so do not wait until it is too late to save your career and certifications.
Without this sort of help, it's likely that you may be financially bankrupt and out of a job. It's far too easy for pilots to incriminate themselves in investigations, but having the protection of an aviation attorney is one way that you can mitigate the damage that your mistakes or accidents may cause.
Call Yulia Vangorodska, Esq. today to schedule your free consultation–you'll be glad you spoke to a pilot with his level of legal knowledge and ability. Whether you are facing civil penalties or criminal action from any aviation administration or department, Vangorodska is here to help you navigate your way through these obstacles and still keep your certification intact. There's nothing worse than having to give up on your dreams, and Vangorodska will do everything legally within his power to fight for you to keep your career and your livelihood afloat.
When facing civil penalties or fines, it's time to get in touch with a trust aviation attorney. Call Yulia Vangorodska to speak with a professional who can help you through this tough time.